COBOURG, ON –/COMMUNITYWIRE/– NCFDC and MNP are proud to announce the launch of a new strategic partnership designed to accelerate the advancement of women-owned ventures across Canada. The collaboration provides mentorship to select women entrepreneurs who have secured microloans through the DELIA Women Entrepreneurship Loan Fund, a project made possible with the support of ISED Canada.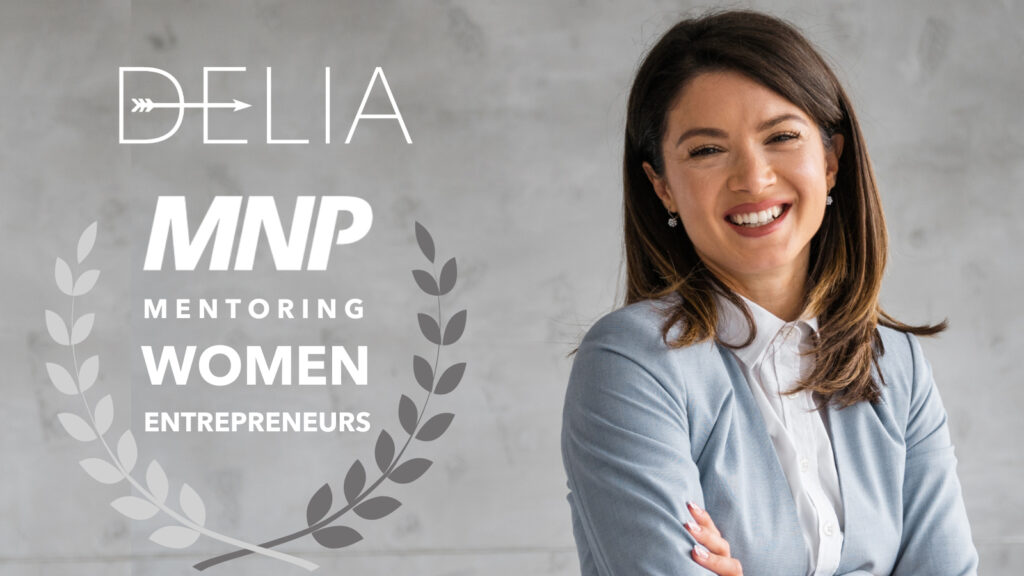 MNP is also a strong supporter and partner in NCFDC's StrikeUP Canada annual digital conference event for women entrepreneurs. The third successful edition of StrikeUP wrapped up last week, headlined by Michele Romanow (CBC's Dragons' Den, Clearco) as well as Bobbie Racette (The Virtual Gurus), Amber Mac and more.
Through the partnership with MNP, scalable women-owned and women-led B2B organizations with strong job creation potential will have the opportunity to develop a direct relationship with advisors from MNP offices in their regions.
MNP is a leading professional services firm, offering expert guidance across accounting, consulting, tax, and digital services. The firm's support will help business owners with their growth objectives.
As part of the program, MNP mentors will assist participating entrepreneurs with opportunities to grow and scale their business, including expanding their partnerships and networks, widening industry connectivity, and identifying new business opportunities and resources.
The DELIA-MNP collaboration supports the success of all women entrepreneurs, whether in urban or rural and remote regions of the country. Since launching the second DELIA fund, NCFDC continues to discover the diversity, talent, ambition and drive of up-and-coming Canadian women in business from all communities and backgrounds through the DELIA micro-loan fund as well as through StrikeUP Canada (NCFDC's annual digital conference event bringing together thousands of women entrepreneurs and the ecosystem partners, funders and investors who support them). From this pipeline, leaders of exceptional, scalable companies will benefit from a mentorship relationship forged with MNP.
"Empowering women entrepreneurs is not only about creating opportunities for growth, but also about investing in a brighter future for all businesses in Canada," said Diana Render, MNP's Executive Vice President of Atlantic Canada & Ontario (outside of the GTA), and National DE&I Champion. "By mentoring and empowering women in business, we are playing our part in creating an ecosystem where everyone's contributions are valued and given the opportunity to flourish. We believe that making a positive and authentic difference in our communities means giving our time, expertise and experience. MNP's partnership with DELIA enables us to provide these necessary resources, and supports the ideas, efforts and achievements of women entrepreneurs across the country."
"Collaborations like this were made possible by the foresight of the Government of Canada to lay the groundwork for ecosystem response and coordination through the Women Entrepreneurship Strategy and related initiatives," added Wendy Curtis, Executive Director of NCFDC. "On behalf of our organization and Board of Directors, we would like to thank MNP for their leadership at this critical juncture, for being at the national forefront with a national focus, and working one-on-one with some of the most talented and high-potential business owners in our DELIA portfolio."
New Mentorship Relationships Forged
The DELIA cohort includes Toronto-based REALLIFE Pictures Inc., a production company and literary agency. Founder Kulbinder Saran Caldwell is on a mission to put diverse experiences on screen, to amplify authentic stories from Black, Indigenous and People of Colour, 2SLGBTQI+ and neuro-diverse writers.
"Our engagement began with an alternative lending solution," said NCFDC Executive Director, Wendy Curtis. "And now we're pleased to connect Kulbinder with MNP on the strategy front. This brings focused mentorship and professional services support to the table to help her achieve her business growth objectives."
Other entrepreneurs embarking on mentorship journeys with MNP include Rachel Bartholomew, Founder and CEO of Hyivy Health. Rachel connected with MNP at a critical juncture as her business prepares to raise a seed round and stage for growth after completing clinical trials of their women's pelvic health innovation.
Brianne Miller and Alison Carr teamed up with a vision for a circular package-free food supply chain and launched Nada in British Columbia. Young entrepreneur Jamie Sealy from Cocagne, New Brunswick, is also part of the program with her venture, Mile High Travel.
"Being selected for this mentorship program showcases the willingness and support from both Delia and MNP to create companies that are financially strong, especially in an environment where many are struggling with inflation, raising funds and being financial frugal," said Rachel Bartholomew.
"This is an exciting time for the DELIA initiative as we see so many women leaders from the portfolio connecting with advisory services from MNP. Whether they are early-stage or more established firms embarking on a growth trajectory, working with MNP will position them for success in the years to come," said Wendy Curtis.
The Future
MNP's involvement in DELIA as exclusive mentors–as well as their concurrent sponsorship of StrikeUP Canada–is a major part of the momentum that has been generated through coordinated action in support of women entrepreneurs. From the vantage point of International Women's Day 2023, NCFDC and MNP look forward to playing a vital role in their continued business growth and success.
"The Women Entrepreneurship Loan Fund was launched to support women-led businesses that have faced systemic barriers to reaching their business goals, and to tap into the important skills and talents they bring to the table," said The Honourable Mary Ng, Minister of International Trade, Export Promotion, Small Business and Economic Development. "By delivering much-needed access to the financing that women entrepreneurs need to succeed, we're supporting economic growth and fostering the excellence that Canada's businesses have come to be known for globally. Our government knows that the return on this investment means more than just more equal footing for women entrepreneurs, because when women succeed, we all succeed."
How to Apply
To begin, entrepreneurs can apply to DELIA today (click here) and if their company is approved for a microloan, they will be automatically considered for MNP mentorship. Select DELIA clients will be nominated for this program. For more information on the program and its eligibility, visit ncfdc.ca/delia.
About NCFDC
NCFDC is an innovation and entrepreneurship organization located at Venture13 in Cobourg, Ontario. NCFDC is dedicated to local, regional and national initiatives that fund, finance and accelerate businesses contributing to inclusive and sustainable economic prosperity. With core operational funding from the Government of Canada, NCFDC delivers DELIA as well as the StrikeUP Canada, a digital conference for women entrepreneurship. Learn more at: ncfdc.ca and strikeup.ca.
About DELIA
DELIA is NCFDC's Women Entrepreneurship Loan Fund, developed with the support of FedDev Ontario and the Women Entrepreneurship Strategy (WES), with strategic performance-based capitalization and support from ISED Canada. DELIA is an evergreen microloan fund with an open call for applications (click here to learn more and to apply today).
About MNP
National in scope and local in focus, MNP is one of Canada's leading professional services firms–proudly serving individuals, businesses, and organizations since 1958. Through the development of strong relationships, MNP provides client-focused accounting, consulting, tax, and digital services. MNP clients benefit from personalized strategies with a local perspective to fuel success at every stage. MNP is a StrikeUP Canada Silver Sponsor as well as the exclusive provider of mentorship and advisory services to women entrepreneurs financed by the DELIA microloan fund. Visit mnp.ca for more.
Contacts
Wendy Curtis
Executive Director
NCFDC
E: wcurtis@ncfdc.ca

Victoria Pichler
Marketing & Communications Lead
NCFDC
E: vpichler@ncfdc.ca

Erin Longley
Senior Regional Marketing Manager
MNP
E: Erin.Longley@mnp.ca