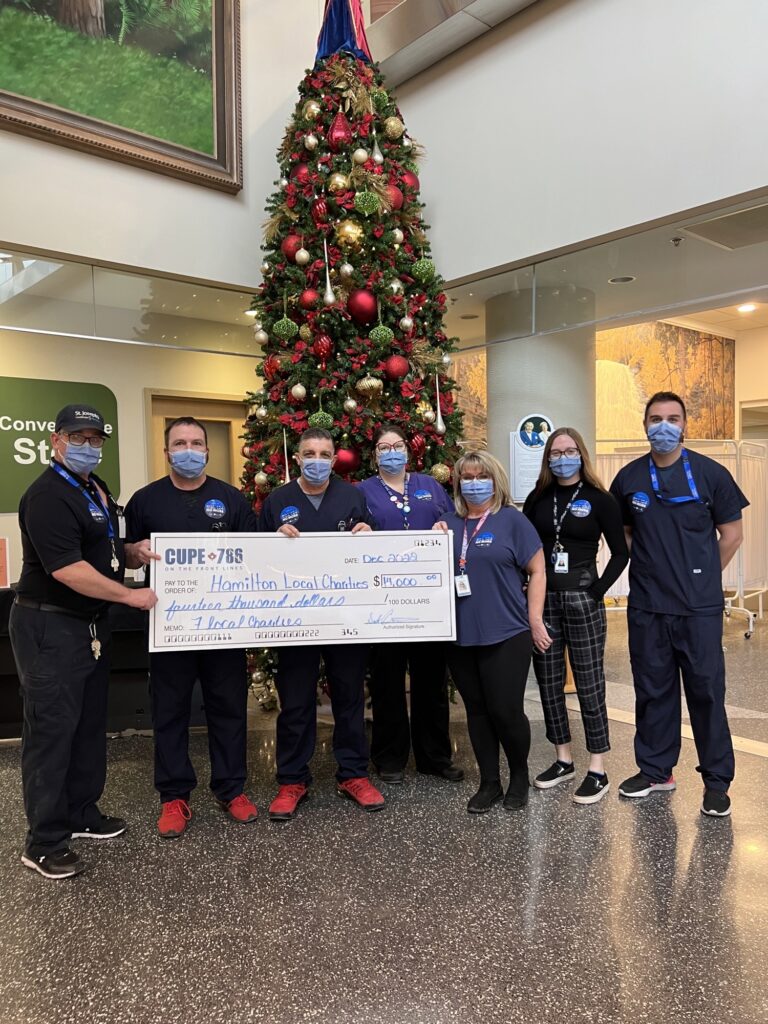 HAMILTON, ON –/COMMUNITYWIRE/– For the fourth consecutive year, 2200 front-line hospital staff at St. Joseph's Healthcare represented by CUPE 786 are giving back to the community. Seven local organizations that provide supports for families and individuals in need were recently presented with donations totalling $14,000 from CUPE 786.
"We know that some local charities and community groups are struggling to meet donation goals this year. With the price of groceries and rent rising, many people just don't have that extra $20, $50 to give and we are very proud that our CUPE 786 members are extremely supportive of our holiday giving program," says Santo Cimino president of CUPE 786 at St. Joe's.
This year, donations went to: City Kidz Hamilton, Interval House Hamilton, Neighbour 2 Neighbour Hamilton, Food 4 Kids Hamilton, Native Women's Centre, St. Matthew's House, Homes for Heroes.
Even though hospital workers themselves earn modest wages, "giving is a way for St. Joe's hospital staff to say a collective thank you to many families and individuals who use the services we are donating to and who throughout the year have told us they value the hard work we do inside the hospital and that they support us in our fight to bargain fair wages and additional mental health supports. We are very grateful for this," adds Cimino.
-30-
For more information, contact:
Stella Yeadon
CUPE Communications
416-559-9300
syeadon@cupe.ca