Canadians are Ready to Hit the Open Road This Summer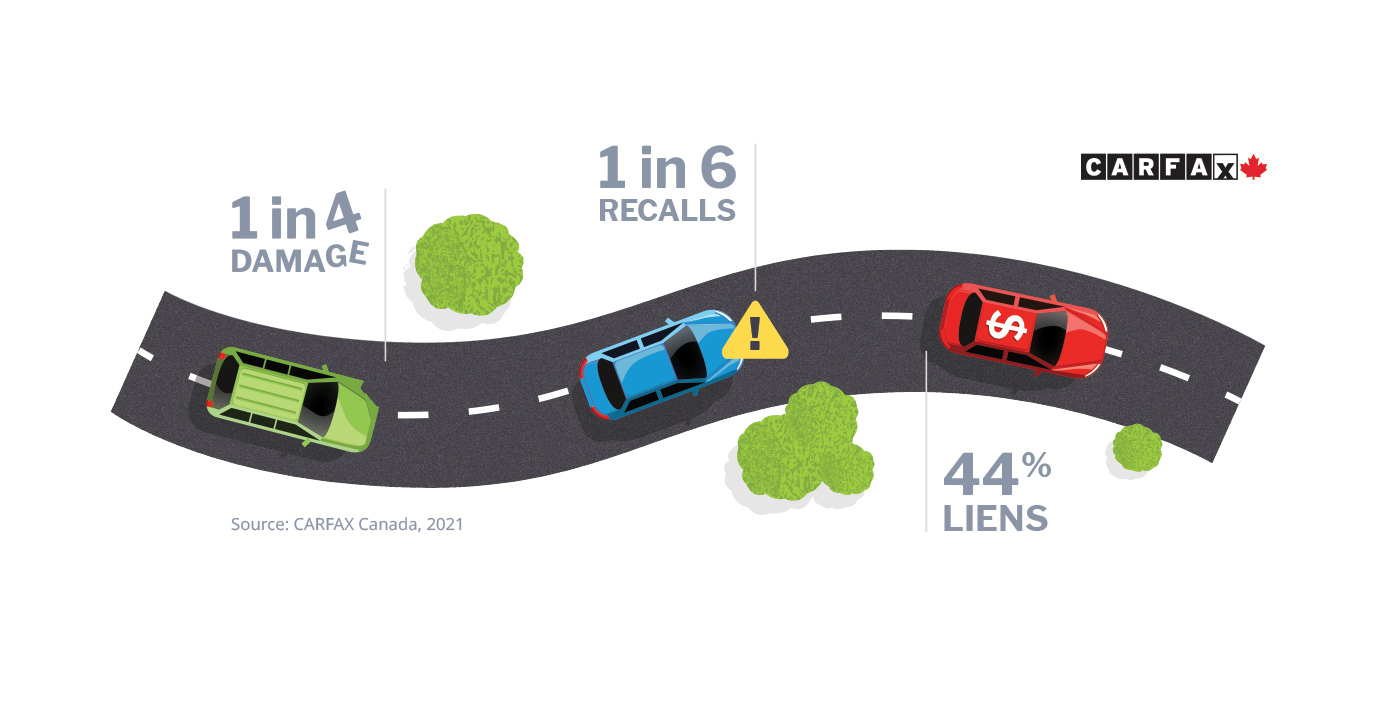 LONDON, Ontario–/COMMUNITYWIRE/–According to CARFAX Canada, the home of the country's #1 vehicle history report, 84% of Canadians are considering planning a road trip this summer once restrictions allow. The most popular reasons for taking a road trip include visiting another city (64%) or visiting family and friends (50%), followed by going to the beach (35%), camping (32%) or a cottage (21%).
Canadians know a thing or two about road trip safety as well: 72% get their vehicle tuned up before the start of road trip season to ensure they are ready to roll, and 70% carry a roadside kit in their vehicle in case of emergencies. Safety is important during the buying process as well since you don't get taken advantage of or stuck on the side of the road. If you're looking at buying a used car just in time for summer road trip season, CARFAX Canada recommends checking the vehicle's history to ensure the price is fair, the car is mechanically safe and there aren't any hidden issues that could become expensive problems down the road.
There are three main issues to be aware of when buying a used car:
1 in 4 vehicles checked by CARFAX Canada have reported accidents/damage: Damage can impact a vehicle's safety and value but finding damage doesn't have to be a deal breaker. To ensure the vehicle will take you safely from point A to B, take a test drive and get the vehicle inspected by a licenced mechanic to ensure it's been repaired properly. This could still be the perfect car, (and might even be a better deal), but knowledge is power in this scenario.
1 in 6 vehicles have recalls: That means 1 out of 6 vehicles has been deemed unsafe by its manufacturer which could put a real damper on a road trip. The rate of open recalls has decreased year over year from 1 in 5, but it's still a prevalent issue and important to be aware of before hitting the open road. Canadians can check to see if their vehicle has a recall for free here.
44% of vehicles have a lien: A lien means someone else owes money on the vehicle, which could result in the new owner becoming responsible for that money. Make sure you check for liens before buying used and keep more gas money in your pocket.
When purchasing a used vehicle, CARFAX Canada always recommends getting a Vehicle History Report + Lien Check, taking the vehicle for a thorough test drive and getting it inspected by a licenced mechanic you trust to ensure it's the right car for you. "Because of CARFAX Canada I was able to steer away from a vehicle purchase which would have turned into a money pit," shares CARFAX Canada customer Leo D. of British Colombia.
Something Canadians cannot fully agree on is whether to drive with the windows up (54% prefer this), or down (46% prefer this) on a road trip. Happy exploring this summer!
For expert tips and everything you need to know about buying a used vehicle, check out CARFAX Canada's Used Car Buying Guide. Or do you already own your dream car and want to make sure it's in great shape? Check out CARFAX Canada Car Care to help keep your car in great shape.
About CARFAX Canada
CARFAX Canada, part of IHS Markit (NYSE: INFO), is Canada's definitive source of automotive information, delivering vehicle history, appraisal and valuation. Drawing on billions of data records from thousands of sources, its products enable used vehicle buyers and sellers to make informed decisions. CARFAX Canada is dedicated to transparency and is trusted to provide vehicle history and valuation information to dealerships, vehicle manufacturers, consumers, major auctions, governments, insurance providers and police agencies. www.carfax.ca
Connect with CARFAX Canada on Instagram, Facebook and LinkedIn.
Source: CARFAX Canada, 2021
Contacts
For further information, please contact:
Brittney McKee, Marketing Communications & Brand Manager at CARFAX Canada
bmckee@carfax.ca
+1.226.680.1712